---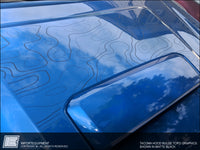 Item Description: 2016 + Toyota Tacoma "TOPO CONTOUR MAP" decal
Size: Cut to fit hood bulge area, as shown in photos (click on photos to enlarge)
Color: Choose your color from the drop down list below. Gloss Black topo contours is shown in our photo.
Qty: 1 topo contour map
Additional Info: Look closely and you'll see a small Tacoma truck hidden in the contours. All contour decals will come with the truck but you don't have to install it if you don't like it. Or you can install it and peel it off later.
Our design is for all the 3rd gen (2016, 2017, 2018, 2019, 2020, 2021) Tacoma Sport models with a hood scoop. As always, we use premium vinyl with all our stickers to maximize the lifespan of the sticker.