---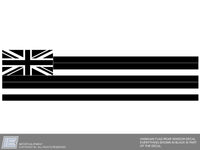 Item Description: 2016+ Tacoma HAWAIIAN Flag Rear Window Decal

Size: Designed to be slightly larger then the rear window, buyer to trim off excess around window edge (click on photos to enlarge them)

Qty: 1 large HAWAIIAN flag decal (see photos).

Notes: This decal will fit both the solid rear window and the 3 piece rear window of the 3rd Gen Toyota Tacoma. This is a "trim to fit" kit. Essentially the decal is slightly over-sized, you just need to apply it to the back window and trim off the excess decal.

Additional Info: Want to show some pride? This decal will do the trick! Although this decal is designed for the rear windows it can be placed anywhere on the vehicle (roof, tailgate, hood, any painted surface, glass, most smooth interior panels, pretty much anywhere you want). All of our decals are machine cut to ensure precision and quality. We use premium vinyl with all our stickers to maximize the lifespan of the sticker.

PLEASE NOTE: THIS DECAL IS ONLY OFFERED IN MATTE BLACK FINISH TO PROVIDE THE STEALTH LOOK.