---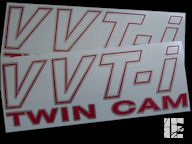 Item Description: VVT-i or VVTL-i 2 Color Sidebody Stickers.
Size: 8" wide x 2.8" high.
Qty: 2 (1 for drivers side & 1 for passengers side)
Additional Info: This sticker is similar to our VVT-i/VVTL-i sidebody stickers, seen elsewhere on our website, except it is a 2 color version. Please note: We only show the VVT-i version in the photo but the VVTL-i version will look the same but with the addition of the "L". Don't let those Honda Civic Si owners have all the fun... Here's your chance to show off your engine spec's. These stickers work great for all late model Toyota & Scion Owners. Don't know which sticker applies to your ride... pop your hood, it will be written on top of your engine. This item is great for car shows or everyday use!
This sticker is machine cut to insure an exact fit every time. This sticker is an IMPORTequipment.com original, you will not find it anywhere else. We use premium vinyl with all our stickers to maximize the lifespan of the sticker.