---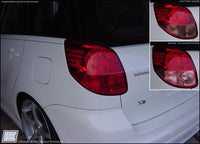 Item Description: Toyota Matrix Taillight Kit (version 1 - back up light is NOT cut out) .
Size: Cut to fit taillight blinker as shown .
Qty: 2 (one for each light - driver side & passenger side)
Additional Info: This sticker is designed to fit the 2003-2004 Toyota Matrix. The purpose of this sticker is to transform the taillight from pink (as shown in small photo) to red (large photo). The blinker will still blink red if you have purchased the red kit, amber (orange) if you have purchased the light or dark grey kits and blue if you purchase the blue kit (yes, red & amber/orange are legal - most American automobile companies use red as their blinker color, while most import automobile companies use amber/orange for their blinkers. Check your local laws before purchasing the blue overlay kit as that will blink blue and may be for show or off-road use only in your state). This sticker is machine cut, ensuring a perfect fit every time. Don't be fooled by people selling "hand cut" taillight overlay's! Only our computer controlled/machine cut sticker is 100% the same every time = exact fitment every time. We use premium vinyl with all our stickers to maximize the lifespan of the sticker. Installation instructions/tips included with purchase.