---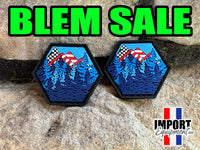 Sale
Item Name:
 BLEMISHED Tree Line American Flag Mountain - PVC Ranger Eye Patch (sold in pairs)

Item Description:
PVC Ranger Eye Patch
Patch Dimensions:
~1.5" wide x 1.25" high
Qty:
 Sold in pairs.
Limit:
 No purchase limit, buy as many as you'd like
PLEASE READ: We are considering these to be BLEMISHED patches because they have random bleed over, irregularities etc. and don't meet our expectations. Therefore we are selling them at a discount. 
By purchasing you acknowledge and understand that you are buying blemished patches and that they are not perfect. All sales final, no refunds or exchanges.
Additional Info:
Numbered bags
Durable PVC
Hook backing
Limited - Only 50 pairs made 

(These blemished patches are some of the 50 made)

Website Drop: 6/21/2023 @ 5:45 PM PST